Doozie offers full-service upholstery for most residential furniture. Furniture pieces are recovered to meet the discerning specifications of each individual client. Pieces we have completed include: sofas, sectionals, sleeper sofas. love seats, settees, banquettes, window seats, wing chairs, Berger chairs, chaise lounges, armchairs, recliners, side chairs, footstools, ottomans, hassocks, dining seats, bar stools, office chairs, and even screens!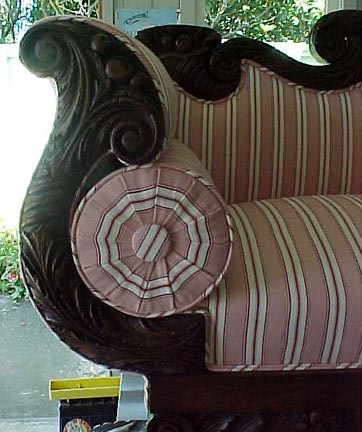 When you have a project in mind, call Doozie at (206) 842-3439 and discuss your plans with Maddy. Most likely, she will arrange a personal appointment with you, either at our workrooms or in the privacy of your own Island home. During your meeting, Maddy will discuss all the aspects of your project, and answer all of your questions. You will then be provided with a written bid that delineates the parameters of your individual project and the projected cost.

We provide a range of upholstery services, from simple cushion re-fills (with new foam and batting) to complete furniture refurbishment with removal of all existing materials from the frame and the addition of all new materials.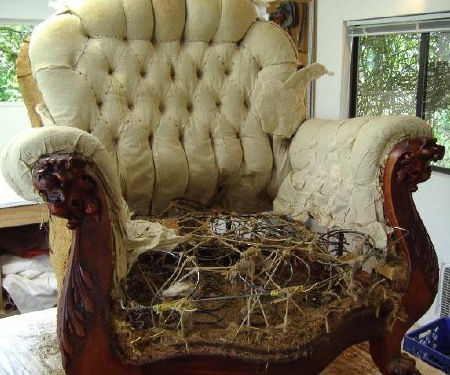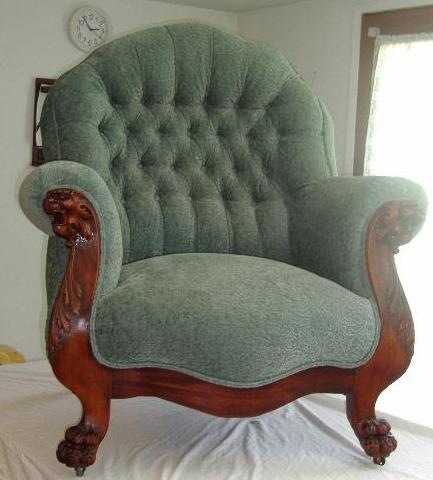 All interior materials utilized in the upholstery process are provided by Doozie. We offer fabrics and leathers by special order for our discriminating clients, who may also purchase their own fabrics from other sources. In addition to several fabric lines,Doozie provides custom order leather, vinyl, trims, nails, pillow forms, down cushions and envelopes, and furniture legs. There is NEVER a cutting charge in our workrooms. Maddy will offer suggestions for fabrics appropriate for your project, and will provide you with a yardage estimate on each bid.

Often changes can be made to the original design of the furniture, such as replacing the legs or changing the style or shape of the padding. Trim and skirt choices will also change to look of the piece.

Once you have our bid, and decide to move forward with your upholstery project, you will secure the next slot in the customer line-up by signing and returning the bid and making a deposit payment. When your payment is received, you will be provided with an approximate timeline for when the work will occur, it has been three, six, or as long as twelve months out, so do plan ahead if you have a specific timeline in mind. We try to do the work when you are nearby for consultation, and are happy to hold a place further on the calendar for returning seasonal residents and folks in mid-remodel.

You may bring your furniture to our workroom, or you may choose to arrange for pick-up and delivery by Doozie for an additional charge.

We regret any inconvenience, but Doozie does not do automotive or marine upholstery, nor do we sew draperies or bed linens.